Skate Sharpening Price List
Harrow Location only
Hockey skate sharpening
$8.00 includes HST

Figure skate sharpening
$12.00 includes HST

Matrix figure skate sharpening
$16.95 includes HST

Junior profile – under size 5.5
$30.00 includes HST and sharpen

Senior profile – size 6 and up
$40.00 includes HST and sharpen

We repair rivets and eyelets, replace cracked holders and broken steel. Also available tape, laces and other small accessories.

Windsor Essex Arena Map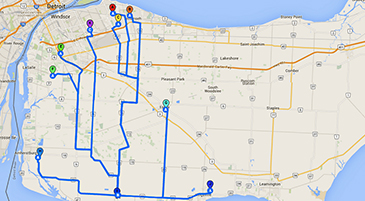 Located within 45km from all Windsor and Essex County Arenas.
click here to view map for directions and approximate drive times.
Maximum Edge Location
Phone: 226-207-0303
Address:
72 King St E, Unit 4, Harrow, ON N0R 1G0
Mailing address:
PO Box 451, Harrow, ON N0R 1G0
Summer Shop Hours until August 2, 2016:
Sunday, Monday & Thurs: Closed          
Tuesday: 9am - 5pm
Wednesday: 10am – 4pm
Closed for Holiday - Fri, July 1
Saturday: 9am - 3pm
Sharpening by appointment with 24 hour notice by email maxedge@mnsi.net can be arranged.


Parking available on street as well as behind building